Speakers
We are in the process of inviting speakers, updating the website, and continually working to increase the relevance and value of the conference to our delegates.
> Click here to view previous Conference Programmes
2019 Speakers will appear on this page (in stages) once they have accepted our invitation or been accepted to speak at the conference.
In the meantime, you can look through Speakers from the past three years of Passenger Terminal CONFERENCE, and which topics they covered.
---
For information about speaking at Passenger Terminal CONFERENCE 2019 please contact Janine McEvilly, Conference Director, Passenger Terminal CONFERENCE at janine.mcevilly@ukimediaevents.com
SKYTRAX
WORLD AIRPORT AWARDS
Very good expo and great speakers. Plenty of variety, which made it hard to follow all these interesting presentations! Very good
Nikolaos Papagiannopoulos, Senior Project Manager, Athens International Airport, GREECE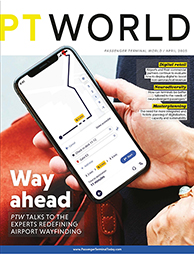 Click here for free magazine subscription + media pack