Programme
We are in the process of inviting speakers, updating the website, and continually working to increase the relevance and value of the conference to our delegates.
>> Click here to view previous Conference Programmes
Each year we ensure that the conference reflects the topics of key interest to all potential delegates. This is the place for innovative ideas and solutions that are critical to the industry's future success.
An independent and unbiased conference platform
The conference is strongly supported by major airports, airlines, aviation authorities and regulators, it is independent and encourages a free and frank exchange of views and ideas, and sometimes even heated debate. Participation in such a highly authoritative environment allows businesses to be associated with a quality educational programme.
For information about speaking at Passenger Terminal CONFERENCE 2019 please contact Janine McEvilly, Conference Director, Passenger Terminal CONFERENCE at janine.mcevilly@ukimediaevents.com
Main topics include (but are not limited to):
Ageing Population & PRMs
Airport Cities, Regions & Transport Connections
Airport Design, Planning & Development
Airport Design, Planning & Development - Middle East & Asia
Aviation Security, Border Control & Facilitation
Commercial, Concessions, Retail & Media
Crisis & Disaster Management
Customer Service & Passenger Experience
Economics, Investment & Financing Airport Development
Environment & Sustainability
Facilities Maintenance & Management
Future Airports
Increasing Airport Capacity
Inspiration & Innovation - Airport Labs
Management & Operations - ATC/ATM/A-CDM/TAM/PBAM/APOC/AICC
Social Media, Branding, Marketing & Advertising
Technology: Disruptive Innovation, Digital Transformation, Passenger Journey, Baggage, Systems & Integration
Visit the Testimonials and Review pages to see what delegates and speakers have to say!
SKYTRAX
WORLD AIRPORT AWARDS
The exhibition was very useful and very well presented, very valuable for airports
Sujata Suri, Vice President Strategy & Customer Experience, Hamad International Airport, QATAR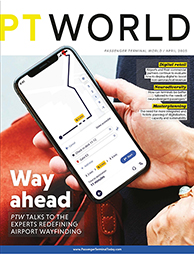 Click here for free magazine subscription + media pack