Passenger Terminal EXPO & Skytrax WORLD AIRPORT AWARDS - the synergy between the two events creates the perfect venue, atmosphere and audience for the coveted awards!

Join us for celebration drinks with the winners of the prestigious
Skytrax WORLD AIRPORT AWARDS 2018!
Open to all attendees of Passenger Terminal EXPO & CONFERENCE!
10% Discount Delegate Pass 5+ Delegate Group Booking Free Exhibition Pass
"The collaboration with Passenger Terminal EXPO enables Skytrax to host the World Airport Awards at a venue that offers very clear synergies between the two events," says Edward Plaisted, CEO of Skytrax. "It provides the platform to publicly honour the winning airports, while at the same time delivering an awards ceremony that is not influenced by any third party. This concept is of paramount importance to us."
---
Singapore Changi Airport is once again voted the World's Best Airport by international air travellers at the Skytrax WORLD AIRPORT AWARDS 2017!
Singapore Changi Airport
Skytrax World Airport of the Year 2017
---
WORLD'S BEST AIRPORTS 2017:
Singapore Changi Airport
Tokyo International Airport (Haneda)
Incheon International Airport
Munich Airport
Hong Kong International Airport
Hamad International Airport
Chubu Centrair Nagoya
Zurich Airport
London Heathrow Airport
Frankfurt Airport
To view the complete list of categories, winners and photos from the 2017 awards ceremony, please visit:
The endless networking opportunities with colleagues and industry leaders provide a great way to learn from the best and provides a vast insight into where this industry is headed. Passenger Terminal EXPO is a place to get inspired!
Eva Maarend, Marketing Specialist, Tallinn Airport, Estonia
20, 21, 22
March 2018
Click here to enter these dates in your e-diary or Google Calendar
SKYTRAX
WORLD AIRPORT AWARDS
CONFERENCE HOURS
Tue 20 Mar - 08:45-17:30
Wed 21 Mar - 09:00-17:30
Thu 22 Mar - 09:00-13:30
EXHIBITION HOURS
Tue 20 Mar - 10:00-18:30
Wed 21 Mar - 10:00-17:30
Thu 22 Mar - 10:00-15:00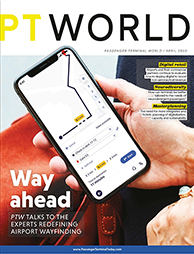 Click here for free magazine subscription + media pack