Submit Release
Exhibitor news releases
Secure your airport with Absolute Shield
SEMAWORLD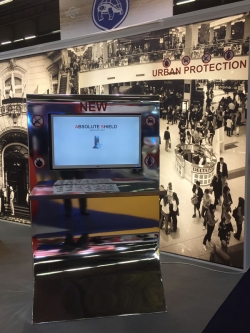 Semaworld, a worldwide leader in blast containment, will present its newest anti-terrorism security solution, Absolute Shield, at Passenger Terminal EXPO 2018.
Absolute Shield is a barrier that is anchored into the ground or floor to protect against vehicles, bombs, IEDs and gunfire either inside or outside of the terminal. It features an anti-ricochet system that blocks bullets at angles as low as 10°, stops fragmentation and diverts blast waves from explosions.
---
Workforce planning software for ground handling personnel
Topsystem Systemhaus GmbH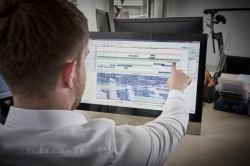 Topsystem Systemhaus has recently expanded its 'Aviation' suite with APHIS, a software package that takes care of the extremely complex task of workforce planning.
APHIS stands for Aviation Personnel Handling and Information System and it joins Topsystem's ground handling (GHS) and cargo handling (ECHOS) systems to create a powerful software suite for managing airport operations.
---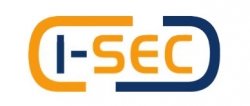 Security personnel specialist I-SEC will present its recently launched software division, I-SEC Advanced Systems (AS), at Passenger Terminal EXPO 2018. Visit its booth to discover a suite of interconnected security and manpower tools.
---
End-to-end airport IT solutions
Huawei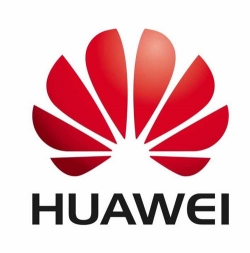 A global leader in ICT, Huawei, is making its first ever appearance at Passenger Terminal EXPO and will present its end-to-end airport cloud solution for the daily operation of airports, as well as its expertise in data centres, high-density broadband capabilities and big data analysis.
---
New app makes it easy for passengers to grab a bite
Grab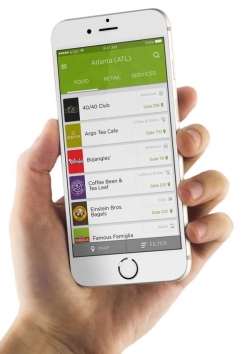 The large number of food outlets available in airports can sometimes make it hard for passengers to choose and physically find the right restaurant for them. After having queued for security, the last thing they want to do is queue again for food. The Grab app, which will be demonstrated at Passenger Terminal EXPO 2018, proposes a solution.
---
Crossbelt sorter free from tilting, sliding or jamming
Fives Intralogistics SpA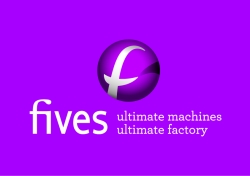 Fives Intralogistics will showcase the GENI-Belt BH crossbelt sorter as an alternative to traditional tilt-tray sorters. The GENI-Belt BH is a durable crossbelt sorter that combines gentle handling with very high speeds, flexible trajectories, accuracy, reliability and high throughput.
---
Intelligent mechatronic drive systems for baggage handling systems
SEW Eurodrive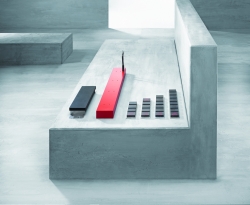 SEW Eurodrive will be on hand at Passenger Terminal EXPO 2018 to present its range of electric motors, conveyors, sortation units and other baggage handling hardware. This year, the new DRC electronic motor and SLC synchronous linear motor will take centre stage.
---
No more packed overhead lockers?
Selfcair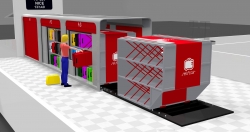 Making its European debut at Passenger Terminal EXPO 2018, Selfcair's 'Autonomy' baggage solution aims to put an end to packed overhead lockers. Autonomy recognises that many passengers currently mistrust traditional baggage handling, preferring instead to carry as much as possible into the cabin, leading to overhead bins overflowing with suitcases.
---
EDS Standard 3-ready baggage handling system at Charles de Gaulle
Alstef Automation SA

Alstef has been chosen to implement EDS Standard 3 for existing hold baggage screening systems at Paris Charles de Gaulle Terminal 1.
Alstef will start to install its smart system solution at CDG in mid-2018. When the installation is completed in January 2021, EDS Standard 3 will be fully implemented, and the airport's capacity for baggage handling will also increase.
---
Gentle but effective baggage handling
BBHS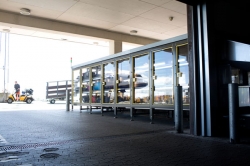 Concerned about the rough handling of luggage? Put your passengers at ease with BBHS's 'gentle' semi-automated baggage handling system, on display at this year's Passenger Terminal EXPO. BBHS uses automated sorters, make-up stations and matching carts and arrival stations to all but eliminate the need for manual lifting. Passengers benefit from less damage to luggage, and handling staff enjoy an easier and safer work environment, resulting in less strain and fewer injuries – so much so that Billund Airport, which has used BBHS solutions since 2014, was awarded the Danish Work Environment Prize (Arbejdsmiljøprisen) in 2016. Last May, BBHS was voted winner of the IGHC Innovator Award, having previously won an innovation competition in 2015 held at Amsterdam-Schiphol.
---
Affordable pre-conditioned air units from leading Chinese supplier
Shenling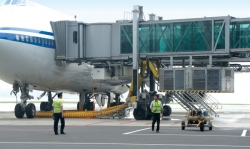 HVAC manufacturer Shenling will be making its first European exhibition appearance when it attends Passenger Terminal EXPO this March. Already a market leader in its native China, the company is now looking to build a reputation for quality and affordability in Europe and the USA.
---
New checkpoint security solution offers first 'smartphone' software platform
Analogic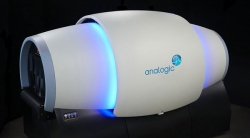 What if airport security managers could upgrade the capabilities of their security technology as quickly as they download mobile apps to their smartphones? And what if software developers could add new capabilities for security technology – just like there are thousands of developers creating software apps every day for Android and iOS devices?
---
Threat analysis solution to enhance performance of security screening staff
ICTS Europe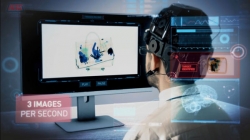 Upgrading baggage screening hardware is a common step, but why not upgrade your staff? Aviation security specialist ICTS Europe will launch the latest version of its InnerEye threat analysis solution at Passenger Terminal EXPO 2018, designed to reduce human error among security screening staff.
---
Facial recognition technology for border and airport security
Cognitec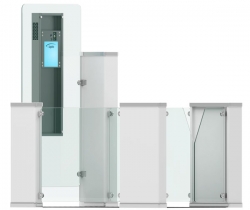 Cognitec will display the latest generation of its FaceVACS facial recognition technology for use in combination with airport 'e-gates', at Passenger Terminal EXPO 2018. FaceVACS-Entry cross-checks travellers' faces against biometric photos stored in travel documents or facial image databases; FaceVACS-VideoScan uses facial recognition on video footage as a reliable alert mechanism for real-time events.
---
Intelligent trolleys could improve the passenger experience from security check to gate
Exruptive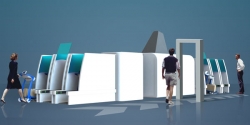 Many things are 'smart' these days, so why not airport trolleys? Danish company Exruptive will present an 'intelligent' trolley and an innovative security check system.
---
Live demonstrations of new CT checkpoint scanner
Smiths Detection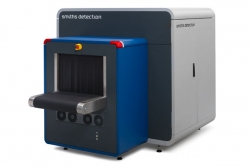 The latest brand-new checkpoint CT baggage scanner to join Smiths Detection's line-up will be available for live demonstration during Passenger Terminal EXPO. The new HI-SCAN 6040 CTiX eliminates the need to remove electronic devices and liquids from hand luggage. In combination with its 0.2m/s belt speed and low false alarm rate, it has the potential to considerably reduce security checkpoint queues and improve the passenger experience.
---
Experience Changi T4's innovative MorphoPass biometric solution
Idemia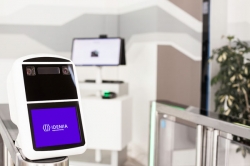 Idemia will present MorphoPass on its stand in Stockholm in March. The company describes the system as 'the first biometric passenger processing solution operating in live conditions in the world'.

Currently in service at Changi Airport's T4, MorphoPass has already helped process more than one million passengers in less than three months. Fully biometric-enabled, the system has been in use since 31 October, providing facial recognition and finger scanning. Iris scanning is set to begin later this year.
---
Improved check-in desk allocation with new Better Check-in software
Copenhagen Optimization
To enhance the check-in desk allocation process, Copenhagen Optimization will present Better Check-in at this year's Passenger Terminal EXPO. This brand-new addition to the company's existing Better Airport software suite takes into account airline preferences and forecasts of passenger and baggage flow to manage the allocation of check-in counters, as well as the corresponding queue areas.
---
Stand allocation planning made easy with new simulation software module
Airport Research Center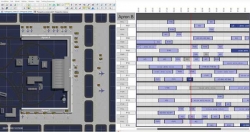 Airport Research Center will demonstrate the latest addition to its range of CAST simulation software – a scenario-based stand allocation and planning module developed in conjunction with Zürich Airport. The new module complements ARC's existing software suite, which includes 'Terminal', 'Aircraft' and 'Vehicle' modules, helping airports determine their strategies to accommodate the future fleet mix and meet airline preferences.
---
Brighter baggage tags for a better check-in experience
Seikodo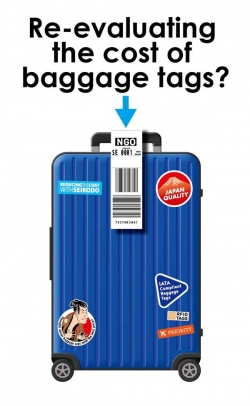 Seikodo will use Passenger Terminal EXPO 2018 to demonstrate how it can brighten up check-in with its new multi-colour baggage tags. With up to eight available colours, previously wasted baggage tag space can now be utilised for striking advertising. Multi-colour printing also enables clearer and easier-to-understand instructions for passengers still unfamiliar with the self-service bag-drop process. Meanwhile, RFID technology makes sure bags are accurately tracked every step of the way. Seikodo supplies RFID-equipped tags, priority tags and TSA security labels, all with a strong focus on reducing costs. Its tags were part of the recent rollout of self-service kiosks at some of Japan's major international airports, including Haneda, Narita and Kansai.

---
Self-service check-in kiosk for 'single token' seamless travel
IER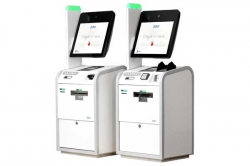 Visitors in search of the latest self-service solutions should stop by IER's stand at Passenger Terminal EXPO 2018, where the company will present its i920 self-service check-in kiosk, the i820 retrofit bag-drop solution and a brand-new e-gate solution for automated border control, Fly To Gate.
---
Track passenger flow, reduce delays and boost revenue with Airport Sense
Genetec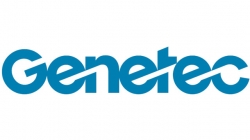 Did you know an extra 10 minutes in security reduces the average passenger's spend in the commercial and retail area by 30% For airports keen to keep a closer track on passengers, Genetec will demonstrate Airport Sense – an advanced analytics solution that gives you a deeper understanding of what's happening in your airport, helping you create a passenger journey that's not only faster but also smoother – at Passenger Terminal EXPO 2018.
---
Björk baby changing table wins Red Dot urban design award – on show
Dan Dryer AS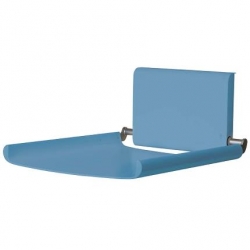 Dan Dryer will display two of its public hygiene ranges at Passenger Terminal EXPO 2018. The first is the Björk range, which includes a baby changing table that won a 'Best of the Best' in the 2017 Red Dot product design awards for its appearance, functionality and use of materials.

---
From push to pull: flexible baggage handling with dynamic baggage storage
Beumer Group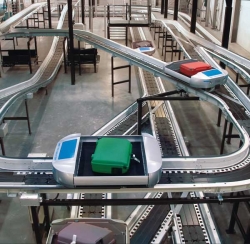 Beumer Group is launching a new baggage handling system that transforms the flow of baggage from a push system to a pull system. It uses dynamic baggage storage, which allows bags to be checked-in early, stored and later 'pulled' from storage in batches, to be loaded onto individual unit load devices (ULDs). This way, the system is able to manage peak volumes better, thus reducing labour requirements.
---
Stress-resistant anti-microbial security trays – on show
CQRTS AS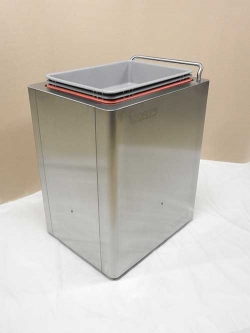 CQRTS will bring updated versions of its security scanning trays and accompanying dispenser trolleys to Passenger Terminal EXPO 2018. Larger models of the trays are now made from a new formulation of injection-moulded plastic, which does not develop white spots when stressed by impacts. This means fewer delays due to scanners returning false positives caused by spots. All trays continue to feature CQRTS's signature antimicrobial agent that protects travellers and staff against a host of pathogenic bacteria throughout the tray's life.

---
Eliminate complex IT infrastructure with Bagchain
Vanderlande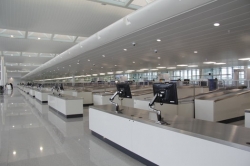 Material handling specialist Vanderlande will present its latest innovations in advanced passenger checkpoint (APC) solutions at Passenger Terminal Expo 2018.

The APC solutions have been designed to help airports respond to growing security requirements while maintaining a pleasant passenger experience. Vanderlande combines a modular, state-of-the-art automated screening lane with remote screening (centralized image processing), enabling screening agents to share the workload, which counters the effect of traffic variation and significantly improves operational efficiency.
---
AXA Power, Hobart, Houchin, and J&B Aviation fuse to become ITW GSE
ITW GSE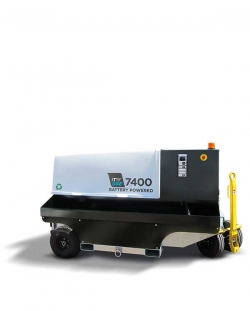 Under the banner of ITW GSE, AXA Power, Hobart, Houchin and J&B Aviation aim to strengthen their position in the ground service equipment (GSE) market. They continue to be a leading supplier of ground power units (GPU) and pre-conditioned air (PCA) for the aviation industry.
---
Discover a more flexible check-in procedure with iCUSS mobile kiosks
Hong Kong International Airport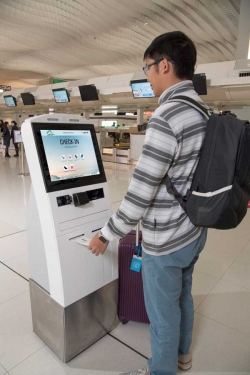 Hong Kong International Airport is showcasing its new mobile check-in kiosks, called iCUSS, at Passenger Terminal EXPO 2018. iCUSS is the result of a two-year study on how to streamline the check-in process and is claimed to be the world's first 'hot-swappable battery-powered movable check-in kiosk'.
---
Next generation of FiNDnet ground handling software to be launched at PTE 2018
Damarel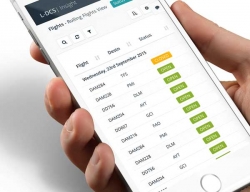 Damarel is launching the new generation of its FiNDnet ground handling software suite at Passenger Terminal EXPO 2018. The software has provided turn management, service recording and billing to ground handlers around the world for over 20 years to become a well-known system that is trusted by many major airports around the world.

---
Queue priority app – on show
uFirst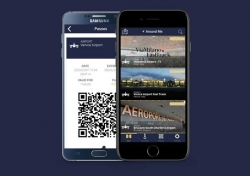 Queues can be annoying, so uFirst has developed a mobile application that allows passengers to skip queues for a fee. Using a QR code displayed on their device, passengers are granted access to VIP lounges or fast-track services at security checks.
---
Faster security checks with CT cabin baggage screening technology
L3 Security & Detection Systems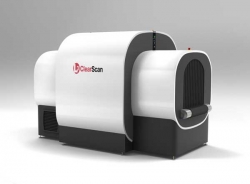 L3 Security & Detection Systems will display its ClearScan checkpoint CT cabin baggage screener at Passenger Terminal EXPO 2018. It allows passengers to leave liquids and certain electronic items in carry-on baggage so that less time is wasted getting devices and toiletries out of and back into bags. When the screener is combined with an automated tray return system, passenger wait times can be cut down even further.

---
Water- and dust-resistant data entry systems put to the test!
PrehKeyTec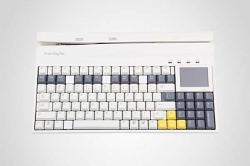 Innovative data entry systems including the spill- and dust-proof MCI 111 keyboard with integrated OCR reader and MSR, as well as the ML 2 A standalone reader for cards, passports and other travel documents, will be displayed on PrehKeyTec's stand, which will feature an illuminated aquarium to help demonstrate the water resistance of the company's products.
---
Future-proof your baggage screening
SureScan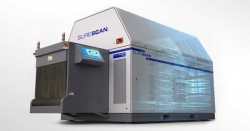 SureScan will present its x1000 baggage screening machine – the first and only TSA 7.2-certified and ECAC 3.1-approved multi-energy stationary gantry explosive detection system (EDS) for airport baggage screening.
---
Prepare for IATA Resolution 753 with new RFID baggage tags
Hummel Print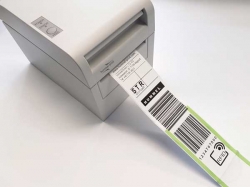 RFID tags offer many benefits over barcodes: read and write possibilities, no line of sight required, readings from further away and higher read rates. For that reason, Hummel Print, a leading producer of baggage tags, will present a new generation of tags that use both barcodes and RFID at Passenger Terminal EXPO 2018.
---
Transform your airport into an online and offline shopping hub – on show
AOE

AOE will showcase its Omnichannel Multi-Merchant Marketplace (OM³) – a suite of solutions to crosslink travel information, services and shopping along a passenger's journey, thus creating a powerful online marketplace.
---
Discover How Moveart Turns Functional Items Into Art – On Show
Burri Public Elements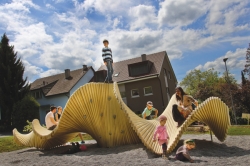 Burri Public Elements will reveal how its partnership with moveART GmbH has created a collection of functional sculptures that can lift the image of any public space, including airports. Ranging from a simple bench to entire play sculptures, moveART elements can provide a place to rest in and around the airport, but at the same time cater for people's need to move around.
---
Modular AODB for regional airports – on show
Adecs Airinfra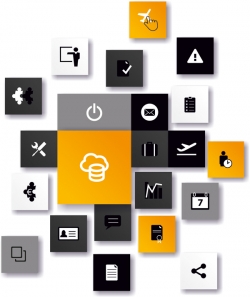 Adecs Airinfra will present AirLink, an airport operational database (AODB) management system, at Passenger Terminal EXPO 2018. The system is ideal for regional airports seeking to reduce costs by streamlining operations and decision making, while ensuring better use of resources and increasing collaboration between airport partners.
---
Airport insight service helps passenger business strategy
CrowdVision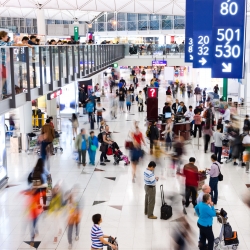 Visit the CrowdVision stand to find out how the company can help increase operational efficiency and enhance the passenger experience. CrowdVision is an automated pedestrian analytics and insights company with software that shows what is happening to an entire passenger population in and around terminals, in real time.
---
Robotic parking service boosts capacity
Stanley Robotics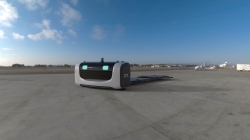 Venture-backed company Stanley Robotics will explain how it is developing an automated valet parking service with robots that can move any vehicle and increase capacity in existing car lots by up to 50%. The robot is able to handle all types of car, regardless of size, and it can lift 2.5 metric tons with ease.

It moves independently and can adapt to the different hazards that may cross its path. The robot's different sensors enable it to understand its surroundings and adapt movements accordingly.
---
Queue-jumping app helps passengers beat long wait times
Fasttraxxx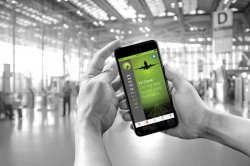 Fasttraxxx is launching a first-of-its-kind mobile app that enables passengers to take themselves out of airport queues and pay for a fast-track service through security, immigration
and executive lounges.

---
Air purifier helps keep airport environment clean
Euromate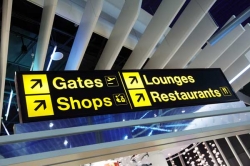 A highly specialized air-filtration company, based in Breda in the Netherlands, Euromate can assist in making airports safer and more comfortable for both passengers and employees by offering innovative, flexible and economical air-purification solutions. The company specializes in four segments, of which at least two are visible within airports.

Euromate's proven and reliable smoking cabin line, the Smoke 'n Go series, offers airports a durable solution when it comes to smoking for passengers and employees. Because the system needs no external ventilation connection and offers a low cost of ownership with its washable main filters, the recirculation system offers optimal flexibility within the airport, while keeping the air pure.
---
Dyson hand dryers revolutionize bathroom experience
Dyson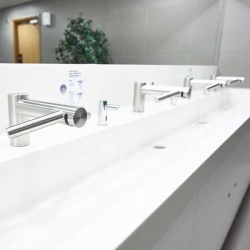 Dyson's mission is to develop technology that solves problems. Since founder James Dyson invented the world's first bagless vacuum cleaner, the product portfolio has expanded and now includes expertly engineered technology for businesses as well as consumers.

The Dyson Airblade Tap hand dryer enables users to wash and dry their hands at the sink, quickly and hygienically. The problem of water on the washroom floor is reduced, as hands are washed and dried over the sink, while, unlike with paper towels, there is no re-stocking or waste removal required. The unit combines a sensor-operated tap with sensor-operated drying that uses high-efficiency particulate air (HEPA) filtered 'blades' of air to scrape water from hands in under 14 seconds. This is faster and more efficient than many conventional dryers.
---
NACO offers consultancy services to airports
NACO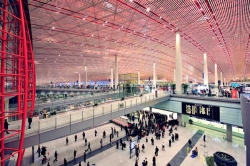 A leading consultancy and engineering firm with over 65 years of experience in the aviation and air transport industry, NACO's multidisciplinary team of experts has provided integrated planning, design, consultancy and development services to over 550 airports in more than 100 countries.

Contributing to sustainable airport development lies at the heart of NACO's mission, from masterplanning and facilities design, to the engineering of airside, terminal and landside infrastructure. NACO's aim is to always provide innovative and sustainable solutions that meet its clients' operational needs, while helping them create distinctive passenger experiences.
---
Guiding systems help aircraft to the gate
ADB Safegate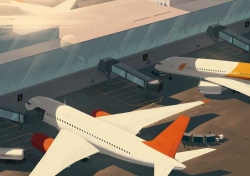 Airports looking for innovative ways to handle more air traffic, safely and cost-effectively, without building costly new infrastructure, should head to ADB Safegate's booth to learn how capacity can be expanded by improving the efficiency of existing systems. The company will show how it can improve the gate turnaround process by integrating an airport's various systems, applying automation and sharing information between air traffic control and ground handling to help achieve the fastest gate turnaround. Integration enables the gate teams to be guided by an accurate aircraft arrival time, helping to ensure the right resources are in place and can move straight into action.
---
JBT displays full range of airport solutions
JBT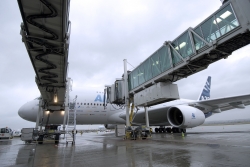 As a single-source supplier for a wide range of aviation-related equipment and services, JBT will display all of its latest airport gate equipment, system/asset monitoring, maintenance, baggage-handling system controls and service, and military ground-support equipment.

Ground-support equipment includes pallet and cargo loaders, de-icers, mobile steps, pushback tractors and tractors without tow bars. Airport gate equipment features the Jetway passenger boarding bridge, the JetPower ground power family, the JetAire series of preconditioned air products, JetFlo water cabinets and BagBuddy luggage lift systems. JBT offers conditioned air and ground power products configured for point-of-use, central system and hangar applications.
---
High-resolution displays help meet customer demand
NEC Display Solutions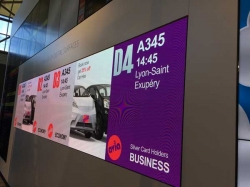 Next-generation operators recognize that for travelers, mediatecture – the emerging trend of bringing to life architectural spaces using innovative display media technology – is the key to addressing passenger needs, and helping airports to remain profitable, as well as welcoming and entertaining to travelers.
---
Real-time electronic system to transform airport queueing
Via Guide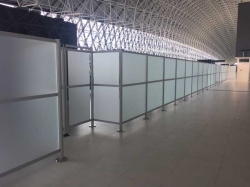 Beltrac magnetic-based posts, the Qtrac electronic queuing system, and NeXtrac for flexible and light airport architecture are among the products and solutions set to be displayed on Via Guide's stand.

With its joint-venture partner Qmetrix, Via Guide has developed the people-counting system Qtrac iQ to give real-time information to the airport/airline and its passengers, and sophisticated data for future forecasts.
---
Bright and bold display screens assist passenger wayfinding
LG Electronics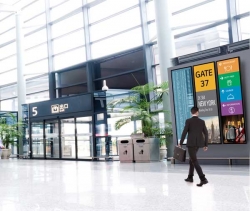 Providing exceptional visual experiences for modern airports and passengers, LG Electronics provides traditional displays, OLED, 86/88in (218/223cm) Ultra Stretch formats and more. Powered by IPS – In Plane Switching – technology for the best color reproduction at every angle, LG's screens offer 700nit to 3,000nit brightness and support 24/7 operation. IPS panels also provide heat-resistant characteristics, which enables LG screens to work reliably without needing a fan.
---
Touchscreen bag tagging service offered by Materna
Materna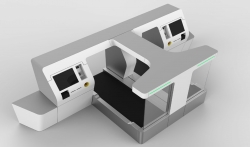 At Passenger Terminal Expo 2018 in Stockholm, Materna will showcase a new model of its well-established Air.Go series. Air.Go was designed by Marcus Pedersen in Denmark, and allows passengers to drop-off their luggage within seconds.
---
Luggage belts designed to support security screening
Habasit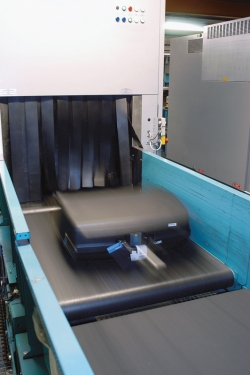 Security has never been more important, particularly at airports, where millions of passengers and visitors pass through each day. As the need for vigilance and checking is rising, so are the numbers of passengers and items of baggage that must be screened and safely transported. Habasit will present its range of quality, energy-saving conveyor belts for airport baggage handling, screening and detection.
---
Baggage identification solutions revealed by Sick
Sick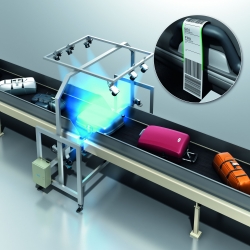 With IATA Resolution 753 set to come into force, airlines, airports and baggage handling companies have the aim of continuous baggage tracking from bag drop until delivery to the passenger. With laser, RFID and camera technology, Sick is able to offer three technologies for baggage identification solutions from a single source.

Sick customers not only profit from these three defining technologies for baggage identification, but also from the knowledge of the company's experienced employees. They put the interest of the customers at center stage and help them find optimal solutions worldwide.
---
Software systems assist with baggage handling design
Emulate3D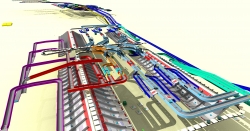 Software products created by Emulate3D help with the design and commissioning of airport baggage handling systems (BHS). Sim3D data-driven models enable users to understand the behavior of complex systems under a variety of operating conditions and make informed decisions about them. System development choices are based on repeatable experiments, and the overall level of risk associated with the project is reduced.
---
Baggage is on the menu for Ulma Handling Systems
Ulma Handling Systems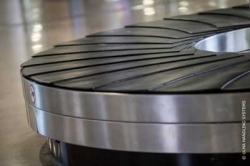 With a 7,000m2 (75,350ft2) production and prototype center that is home to a test tower and showroom, Ulma Handling Systems develops its activities in the integrated engineering of material handling systems through an extensive range of logistics solutions aimed at the field of automatic distribution.
---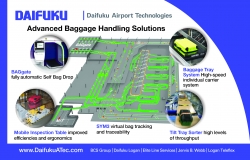 As a provider of airport baggage handling solutions, Daifuku Airport Technologies' offerings include the BAGgate automated bag drop, baggage tray system, tilt tray sorter, Standard 3 integration, mobile inspection table, WebbView, Sym3, and Airflow G5. Its range of technologies provide the tools and resources for every bag to arrive on time safely, every time.
---
Power-enabled seating showcased by Arconas
Arconas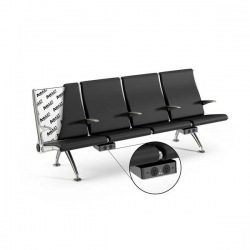 With its sleek new design, the inPower Flex 3 module by Arconas enables passengers to recharge their personal electronics from a comfortable seated position. The device was designed with USB Type-C ports, the newest standard in USB charging, as well as two AC receptacles. USB Type-C can charge any type of mobile devices without an AC adapter. Its adaptive fast charging allows one cable to work on a wide range of devices and accessories, and the module works with devices to optimize charging speed.
---
Green Furniture unveils new Nova C seamless benches
Green Furniture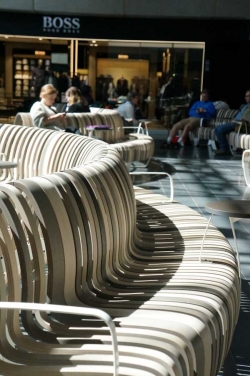 With its line of seating for passenger terminals that gives the feeling of being close to nature, Green Furniture offers a unique approach to seats. Endlessly configurable, the furniture helps communicate a sense of place to passengers. This year at Passenger Terminal World Expo 2018, the company will showcase a new seating system, which has been specifically designed for an airport environment.

Just like seating solutions for modern shopping malls, the latest offering from Green Furniture offers pleasant and open seating in the commercial zones, helping to maintain the flow of passengers. The result is satisfied passengers, happy store owners and a more even passenger flow through the terminal, resulting in good business for the airport.
---
High-back design and footrests among Leadcom Seating offerings
Leadcom Seating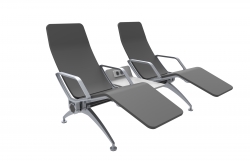 Apex is a practical, hard-wearing, comfortable and bespoke seating model by Leadcom Seating, designed for even the busiest of public waiting areas. It is ergonomically designed and made to provide superior support over long waiting periods.

Apex features an elegant high-back and footrest design for comfort, allowing passengers to lounge and relax. The use of high-quality padding and aluminum components makes cleaning and maintenance easier, adding more value to airport waiting areas.

---
Airport voice system helps passengers navigate through terminals
AviaVox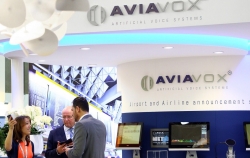 Making traveling easy and relaxed is the goal of every airport, and helping airports to do so has always been the main focus of the AviaVox Artificial Voice Systems. For over two decades, natural announcements with AviaVox phoneme technology have been sounding at airports all over the world in a multitude of languages, helping passengers to find their way.

The world of airports is rapidly changing, however, and today's passenger expects a more personal approach and an integrated information flow, in which up-to-date flight information is only one of many services. Without any compromises to its focus on superior quality artificial voice announcements, AviaVox is widening its service package toward an integrated information flow.
---
New airport barcode scanners boast fast, reliable service
DESKO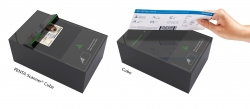 There is a demand from airports for faster and more efficient barcode scanners at boarding gates and bag drop, and DESKO's new Cube technology platform comprising the variations Cube and PENTA Scanner Cube is tailored to this need.

The Cube technology provides reliable read results from barcodes presented on paper and display screens, such as on a smartphone or tablet. The PENTA Scanner Cube can also record high-quality image scans of passports and ID cards.
---
Vision-Box unveils digitized passenger airport experience
Vision-Box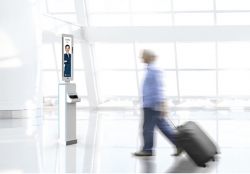 Imagine an open-space airport without obstacles, waiting lines and stop-and-go procedures, fashioned more like a mall or art gallery. At Passenger Terminal Expo 2018, Vision-Box is presenting a newly designed airport ecosystem, marked by the digitization of the passenger experience and a frictionless journey, where processes are seamless, contactless and in motion. Passengers take full control of their journey, using their biometrics features to clear checkpoints, book services, shop and receive personalized information.
---
Intelligent infrastructure solutions on offer from Leidos
Leidos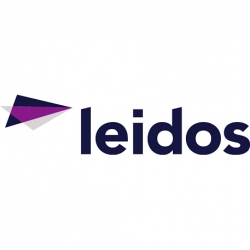 As a global science and technology solutions leader, Leidos works to solve the world's toughest challenges in defense, intelligence, homeland security, and civil and health markets. The global airports sector is a division of Leidos responsible for designing, connecting and protecting intelligent infrastructure in airports.
---
Boarding gate reader innovation showcased by Access IS
Access IS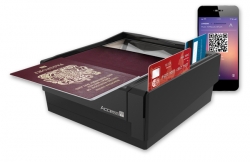 Integral to every automated solution is the need to capture biometric data from an ID document, barcoded boarding pass, FQTV card, and so on. This data helps to confirm that a passenger has checked-in so that they can drop off their luggage, checks they have a valid boarding pass so that they can pass security or buy duty-free goods, and takes their FQTV details to allow them to collect points and enter a premium lounge.
---