Submit Release
Exhibitor news releases
Airport insight service helps passenger business strategy
CrowdVision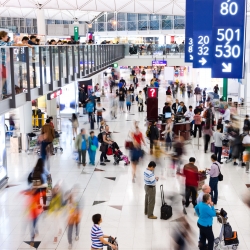 Visit the CrowdVision stand to find out how the company can help increase operational efficiency and enhance the passenger experience. CrowdVision is an automated pedestrian analytics and insights company with software that shows what is happening to an entire passenger population in and around terminals, in real time.
---
Robotic parking service boosts capacity
Stanley Robotics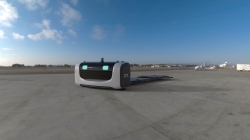 Venture-backed company Stanley Robotics will explain how it is developing an automated valet parking service with robots that can move any vehicle and increase capacity in existing car lots by up to 50%. The robot is able to handle all types of car, regardless of size, and it can lift 2.5 metric tons with ease.

It moves independently and can adapt to the different hazards that may cross its path. The robot's different sensors enable it to understand its surroundings and adapt movements accordingly.
---
Queue-jumping app helps passengers beat long wait times
Fasttraxxx
Fasttraxxx is launching a first-of-its-kind mobile app that enables passengers to take themselves out of airport queues and pay for a fast-track service through security, immigration
and executive lounges.

---
Air purifier helps keep airport environment clean
Euromate
A highly specialized air-filtration company, based in Breda in the Netherlands, Euromate can assist in making airports safer and more comfortable for both passengers and employees by offering innovative, flexible and economical air-purification solutions. The company specializes in four segments, of which at least two are visible within airports.

Euromate's proven and reliable smoking cabin line, the Smoke 'n Go series, offers airports a durable solution when it comes to smoking for passengers and employees. Because the system needs no external ventilation connection and offers a low cost of ownership with its washable main filters, the recirculation system offers optimal flexibility within the airport, while keeping the air pure.
---
Dyson hand dryers revolutionize bathroom experience
Dyson
Dyson's mission is to develop technology that solves problems. Since founder James Dyson invented the world's first bagless vacuum cleaner, the product portfolio has expanded and now includes expertly engineered technology for businesses as well as consumers.

The Dyson Airblade Tap hand dryer enables users to wash and dry their hands at the sink, quickly and hygienically. The problem of water on the washroom floor is reduced, as hands are washed and dried over the sink, while, unlike with paper towels, there is no re-stocking or waste removal required. The unit combines a sensor-operated tap with sensor-operated drying that uses high-efficiency particulate air (HEPA) filtered 'blades' of air to scrape water from hands in under 14 seconds. This is faster and more efficient than many conventional dryers.
---
NACO offers consultancy services to airports
NACO
A leading consultancy and engineering firm with over 65 years of experience in the aviation and air transport industry, NACO's multidisciplinary team of experts has provided integrated planning, design, consultancy and development services to over 550 airports in more than 100 countries.

Contributing to sustainable airport development lies at the heart of NACO's mission, from masterplanning and facilities design, to the engineering of airside, terminal and landside infrastructure. NACO's aim is to always provide innovative and sustainable solutions that meet its clients' operational needs, while helping them create distinctive passenger experiences.
---
Guiding systems help aircraft to the gate
ADB Safegate
Airports looking for innovative ways to handle more air traffic, safely and cost-effectively, without building costly new infrastructure, should head to ADB Safegate's booth to learn how capacity can be expanded by improving the efficiency of existing systems. The company will show how it can improve the gate turnaround process by integrating an airport's various systems, applying automation and sharing information between air traffic control and ground handling to help achieve the fastest gate turnaround. Integration enables the gate teams to be guided by an accurate aircraft arrival time, helping to ensure the right resources are in place and can move straight into action.
---
JBT displays full range of airport solutions
JBT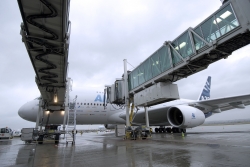 As a single-source supplier for a wide range of aviation-related equipment and services, JBT will display all of its latest airport gate equipment, system/asset monitoring, maintenance, baggage-handling system controls and service, and military ground-support equipment.

Ground-support equipment includes pallet and cargo loaders, de-icers, mobile steps, pushback tractors and tractors without tow bars. Airport gate equipment features the Jetway passenger boarding bridge, the JetPower ground power family, the JetAire series of preconditioned air products, JetFlo water cabinets and BagBuddy luggage lift systems. JBT offers conditioned air and ground power products configured for point-of-use, central system and hangar applications.
---
High-resolution displays help meet customer demand
NEC Display Solutions
Next-generation operators recognize that for travelers, mediatecture – the emerging trend of bringing to life architectural spaces using innovative display media technology – is the key to addressing passenger needs, and helping airports to remain profitable, as well as welcoming and entertaining to travelers.
---
Real-time electronic system to transform airport queueing
Via Guide
Beltrac magnetic-based posts, the Qtrac electronic queuing system, and NeXtrac for flexible and light airport architecture are among the products and solutions set to be displayed on Via Guide's stand.

With its joint-venture partner Qmetrix, Via Guide has developed the people-counting system Qtrac iQ to give real-time information to the airport/airline and its passengers, and sophisticated data for future forecasts.
---
Bright and bold display screens assist passenger wayfinding
LG Electronics
Providing exceptional visual experiences for modern airports and passengers, LG Electronics provides traditional displays, OLED, 86/88in (218/223cm) Ultra Stretch formats and more. Powered by IPS – In Plane Switching – technology for the best color reproduction at every angle, LG's screens offer 700nit to 3,000nit brightness and support 24/7 operation. IPS panels also provide heat-resistant characteristics, which enables LG screens to work reliably without needing a fan.
---
Touchscreen bag tagging service offered by Materna
Materna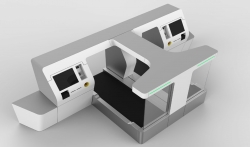 At Passenger Terminal Expo 2018 in Stockholm, Materna will showcase a new model of its well-established Air.Go series. Air.Go was designed by Marcus Pedersen in Denmark, and allows passengers to drop-off their luggage within seconds.
---
Luggage belts designed to support security screening
Habasit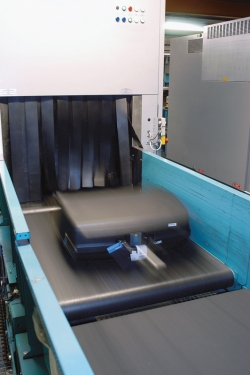 Security has never been more important, particularly at airports, where millions of passengers and visitors pass through each day. As the need for vigilance and checking is rising, so are the numbers of passengers and items of baggage that must be screened and safely transported. Habasit will present its range of quality, energy-saving conveyor belts for airport baggage handling, screening and detection.
---
Baggage identification solutions revealed by Sick
Sick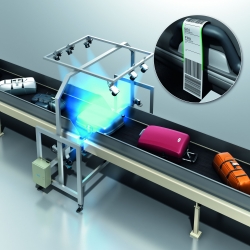 With IATA Resolution 753 set to come into force, airlines, airports and baggage handling companies have the aim of continuous baggage tracking from bag drop until delivery to the passenger. With laser, RFID and camera technology, Sick is able to offer three technologies for baggage identification solutions from a single source.

Sick customers not only profit from these three defining technologies for baggage identification, but also from the knowledge of the company's experienced employees. They put the interest of the customers at center stage and help them find optimal solutions worldwide.
---
Software systems assist with baggage handling design
Emulate3D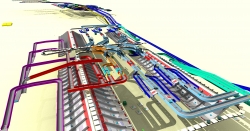 Software products created by Emulate3D help with the design and commissioning of airport baggage handling systems (BHS). Sim3D data-driven models enable users to understand the behavior of complex systems under a variety of operating conditions and make informed decisions about them. System development choices are based on repeatable experiments, and the overall level of risk associated with the project is reduced.
---
Baggage is on the menu for Ulma Handling Systems
Ulma Handling Systems
With a 7,000m2 (75,350ft2) production and prototype center that is home to a test tower and showroom, Ulma Handling Systems develops its activities in the integrated engineering of material handling systems through an extensive range of logistics solutions aimed at the field of automatic distribution.
---
New self-service bag drop solutions meet passenger demand
ICM Airport Technics
Providing self-service bag-drop solutions, ICM Airport Technics is set to showcase its two operational CUSS auto bag-drop (ABD) units at Passenger Terminal Expo 2018. A new Series 1 Mk2 retrofit unit, makes use of an airports' existing infrastructure, conveyors and desks, and adds a sophisticated passenger interface console that includes integrated biometrics and a ADA-compliant tactile keypad.

---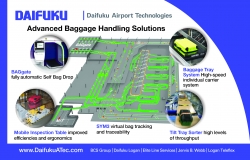 As a provider of airport baggage handling solutions, Daifuku Airport Technologies' offerings include the BAGgate automated bag drop, baggage tray system, tilt tray sorter, Standard 3 integration, mobile inspection table, WebbView, Sym3, and Airflow G5. Its range of technologies provide the tools and resources for every bag to arrive on time safely, every time.
---
Power-enabled seating showcased by Arconas
Arconas
With its sleek new design, the inPower Flex 3 module by Arconas enables passengers to recharge their personal electronics from a comfortable seated position. The device was designed with USB Type-C ports, the newest standard in USB charging, as well as two AC receptacles. USB Type-C can charge any type of mobile devices without an AC adapter. Its adaptive fast charging allows one cable to work on a wide range of devices and accessories, and the module works with devices to optimize charging speed.
---
Green Furniture unveils new Nova C seamless benches
Green Furniture
With its line of seating for passenger terminals that gives the feeling of being close to nature, Green Furniture offers a unique approach to seats. Endlessly configurable, the furniture helps communicate a sense of place to passengers. This year at Passenger Terminal World Expo 2018, the company will showcase a new seating system, which has been specifically designed for an airport environment.

Just like seating solutions for modern shopping malls, the latest offering from Green Furniture offers pleasant and open seating in the commercial zones, helping to maintain the flow of passengers. The result is satisfied passengers, happy store owners and a more even passenger flow through the terminal, resulting in good business for the airport.
---
High-back design and footrests among Leadcom Seating offerings
Leadcom Seating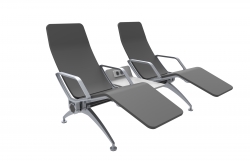 Apex is a practical, hard-wearing, comfortable and bespoke seating model by Leadcom Seating, designed for even the busiest of public waiting areas. It is ergonomically designed and made to provide superior support over long waiting periods.

Apex features an elegant high-back and footrest design for comfort, allowing passengers to lounge and relax. The use of high-quality padding and aluminum components makes cleaning and maintenance easier, adding more value to airport waiting areas.

---
Airport voice system helps passengers navigate through terminals
AviaVox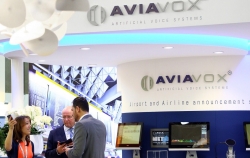 Making traveling easy and relaxed is the goal of every airport, and helping airports to do so has always been the main focus of the AviaVox Artificial Voice Systems. For over two decades, natural announcements with AviaVox phoneme technology have been sounding at airports all over the world in a multitude of languages, helping passengers to find their way.

The world of airports is rapidly changing, however, and today's passenger expects a more personal approach and an integrated information flow, in which up-to-date flight information is only one of many services. Without any compromises to its focus on superior quality artificial voice announcements, AviaVox is widening its service package toward an integrated information flow.
---
New airport barcode scanners boast fast, reliable service
DESKO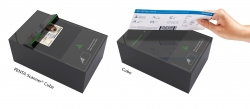 There is a demand from airports for faster and more efficient barcode scanners at boarding gates and bag drop, and DESKO's new Cube technology platform comprising the variations Cube and PENTA Scanner Cube is tailored to this need.

The Cube technology provides reliable read results from barcodes presented on paper and display screens, such as on a smartphone or tablet. The PENTA Scanner Cube can also record high-quality image scans of passports and ID cards.
---
Vision-Box unveils digitized passenger airport experience
Vision-Box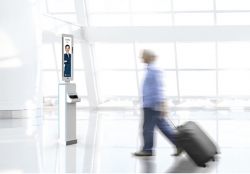 Imagine an open-space airport without obstacles, waiting lines and stop-and-go procedures, fashioned more like a mall or art gallery. At Passenger Terminal Expo 2018, Vision-Box is presenting a newly designed airport ecosystem, marked by the digitization of the passenger experience and a frictionless journey, where processes are seamless, contactless and in motion. Passengers take full control of their journey, using their biometrics features to clear checkpoints, book services, shop and receive personalized information.
---
Intelligent infrastructure solutions on offer from Leidos
Leidos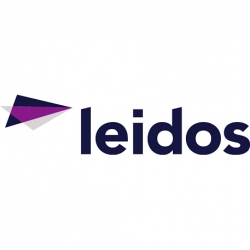 As a global science and technology solutions leader, Leidos works to solve the world's toughest challenges in defense, intelligence, homeland security, and civil and health markets. The global airports sector is a division of Leidos responsible for designing, connecting and protecting intelligent infrastructure in airports.
---
Boarding gate reader innovation showcased by Access IS
Access IS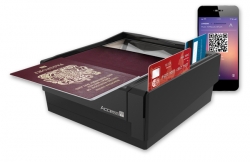 Integral to every automated solution is the need to capture biometric data from an ID document, barcoded boarding pass, FQTV card, and so on. This data helps to confirm that a passenger has checked-in so that they can drop off their luggage, checks they have a valid boarding pass so that they can pass security or buy duty-free goods, and takes their FQTV details to allow them to collect points and enter a premium lounge.
---