Press Centre
Welcome to the Press Centre for Passenger Terminal EXPO 2018.
Active members of the press qualify for a free Press Badge for the show.
---
Contact Details
Wesley Doyle, Communications Manager
Tel: +44 (0) 1306 743744
Fax: +44 (0) 1306 742525
Email: wesley.doyle@ukimediaevents.com
The endless networking opportunities with colleagues and industry leaders provide a great way to learn from the best and provides a vast insight into where this industry is headed. Passenger Terminal EXPO is a place to get inspired!
Eva Maarend, Marketing Specialist, Tallinn Airport, Estonia
20, 21, 22
March 2018
Click here to enter these dates in your e-diary or Google Calendar
CONFERENCE HOURS
Tue 20 Mar - 08:45-17:30
Wed 21 Mar - 09:00-17:30
Thu 22 Mar - 09:00-13:30
EXHIBITION HOURS
Tue 20 Mar - 10:00-18:30
Wed 21 Mar - 10:00-17:30
Thu 22 Mar - 10:00-15:00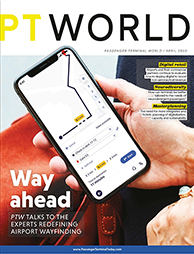 Click here for free magazine subscription + media pack