Stockholm
A city with so much to offer. It has excellent public transport, a huge choice of hotels, restaurants offering culinary delights from around the world, and a thriving big-city entertainment and cultural scene. And the fact that you're never far away from nature and the sea enhances the entire experience.
Travel
Stockholm has four airports within 20 minutes to 1 hour 20 minutes of the city centre. You can also get here by train, bus or ferry. The journey time from Stockholm Central Station to Stockholmsmässan is just nine minutes.
---
To Stockholm by air
Arlanda Airport
The journey time from Arlanda to Stockholm by car or bus is less than one hour. The train journey to the city centre is just 20 minutes.
Arlanda Express
The journey by the high-speed Arlanda Express train between Arlanda Airport and Stockholm Central Station takes just 20 minutes.
Bromma Airport
Bromma is just 20 minutes by car from Stockholm city.
Stockholm Skavsta Airport
Journey time from Skavsta to Stockholm city is 1 hour 20 minutes.
Stockholm Västerås Airport
Journey time from Västerås to Stockholm city is 1 hour 15 minutes.
Airport Coaches
Operate between all Stockholm's airports and Stockholm Central Station.
---
To Stockholm by train
It's quick and easy to get to Stockholm and Stockholmsmässan by train. Travel to Stockholm Central Station or Flemingsberg C and change to a commuter train to Älvsjö Station and Stockholmsmässan.
Tickets for the entire journey, including the commuter train, can be purchased from SJ (Sweden's largest train operator).
Many of Veolia's trains go directly to Älvsjö Station.
---
Getting around Stockholm by taxi
There are many taxi companies to choose from in Stockholm. Approved taxis with metered fares always bear yellow number plates. Credit cards are readily accepted.
NOTE: Taxi prices are not regulated in Sweden; they may vary greatly. We strongly recommend that guests check prices before getting into the taxi. Check the price on the yellow-and-white label (pictured in the right corner above), which is usually on the rear door window, before entering the vehicle. The highest unit price of most taxis is SEK 290-390.
Stockholmsmässan recommends the following taxi companies.
Taxi Stockholm
Taxi 020
Taxikurir
Sverigetaxi
Topcab
Airport Cab
The price on the yellow label is based on a 10km, 15-minute journey. The price indicated on the taximeter is in Swedish kronor. For trips to and from Stockholm Arlanda Airport the major taxi companies have fixed prices of SEK 450-500. Always ask the driver beforehand. In addition to the major taxi companies there are several independent firms; caution is advised.
---
26, 27, 28
March 2019
ADD THESE DATES TO YOUR E-DIARY OR GOOGLE CALENDAR
SKYTRAX
WORLD AIRPORT AWARDS
Very interesting conference content and exhibition
Natalia Roj, Manager Issues and Risks, Hamad International Airport, Qatar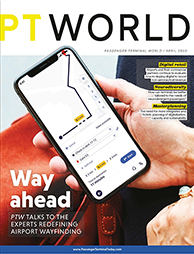 Click here for free magazine subscription + media pack