Paper guidelines & deadlines
FINAL EXTENSION FOR FORM SUBMISSION:
» Tuesday 31 October 2018 «
DEADLINES (by):
31 OCTOBER 2018 - Conference Presentation Proposal Form/s must be submitted
31 OCTOBER 2018 - Your portrait photo (colour) and company logo must be received by us

Accepted file types – photo: .jpg (jpeg). Minimum dimensions: 80 x 90mm (300dpi)
Accepted file types – logo: .jpg (jpeg), .gif, .png or .eps. Minimum dimensions: 100 x 100mm (300dpi)

30 November 2018 to 08 December 2018 – By this date you will be notified of the outcome, your speaking day and time
20 FEBRUARY 2019 – Your PowerPoint presentation and any associated files must be received by us
Please note: Dates are subject to change without prior notice
Presentations should contain the 2019 theme, plus theoretical approaches and comments on the one hand as well as relevant practical examples and feasible solutions on the other.
Choose one concept for your presentation and speak on the development of that single concept from start to end, as brief overviews of multiple concepts have less value for delegates.
The main points that should be covered within each presentation are:
The problem
The possible solutions researched
The solution and why it was chosen
For further information about speaking at Passenger Terminal CONFERENCE 2019 please contact Janine McEvilly, Conference Director, Passenger Terminal CONFERENCE at janine.mcevilly@ukimediaevents.com
PLEASE NOTE:
Airports, airlines, transport authorities, regulators and government agencies will be given priority
Any company can submit up to three proposals for the conference
Co-presentation proposal with an airport, airline, authority or government representative only: complete the form once for each person, complete the SPEAKER SECTION individually and the PRESENTATION SECTION, complete the same for both people. Check (tick) the co-presentation box, adding the name of the other speaker each time. Please note: we may ask that only one person presents
Panel discussion proposal: please complete one form per panellist, and indicate who will facilitate (Chair) the panel on their form. Check (tick) the "Is this a panel discussion proposal?" box, adding the names of the other panellists in box provided below. Please note: we may ask that more or fewer people participate
All proposals will go through the selection committee made up of the Conference Director, airport and airline personnel and independent consultants
Each proposal is given equal consideration for the merit and timeliness of the topic, the experience and knowledge of the speaker and how it would fit in with other chosen presentations
All applicants will be responded to between 30 November 2018 and 08 December 2018, and successful applicants, along with invited presentations/speakers, will go straight into the conference schedule
Your portrait photo and company logo complete your submission. Incomplete proposals will not be considered
Each successful presentation proposal will receive the equivalent of one complimentary three-day delegate pass (not one per person) included in their Speaker badge bar code. This is automatically allocated to the speakers from airports, airlines, authorities and governments. Each successful panel discussion proposal will receive a complimentary one-day delegate pass for each panellist
IMPORTANT:
We will not include any corporate profile-type or commercial sales pitch-type presentations. Presentations must not include a specific product or service that your company supplies. Any company failing to comply will not be accepted at the conference.
26, 27, 28
March 2019
ADD THESE DATES TO YOUR E-DIARY OR GOOGLE CALENDAR
SKYTRAX
WORLD AIRPORT AWARDS
PTE is the one event I try to make every year. Great speakers, excellent exhibitors and a unique opportunity to explore everything going on in the industry in one location
Eric Youngquist, Senior Manager - Customer Experience, United Airlines, USA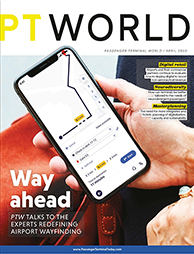 Click here for free magazine subscription + media pack