Downloads
▪ Media downloads ▪ Marketing downloads ▪ Other available downloads
Media downloads
These event logos have been provided for use by exhibitors, speakers, conference delegates and exhibition visitors to share information on the event with friends and colleagues.
The logos can be used to post the event details on a company website or calendar listing; to send printed invitations to colleagues and clients; to email details of the event throughout a company internally, etc.
Download the 2018 EXPO logo
Download the 2018 EXPO logo with dates
Download the 2018 CONFERENCE logo
Please note: If you require a logo in a different format to the ones above, please email us. All of the logos above are available showing the dates and location as well.
The endless networking opportunities with colleagues and industry leaders provide a great way to learn from the best and provides a vast insight into where this industry is headed. Passenger Terminal EXPO is a place to get inspired!
Eva Maarend, Marketing Specialist, Tallinn Airport, Estonia
CONFERENCE HOURS
Tue 20 Mar - 08:45-17:30
Wed 21 Mar - 09:00-17:30
Thu 22 Mar - 09:00-13:30
EXHIBITION HOURS
Tue 20 Mar - 10:00-18:30
Wed 21 Mar - 10:00-17:30
Thu 22 Mar - 10:00-15:00
20, 21, 22
March 2018
Click here to enter these dates in your e-diary or Google Calendar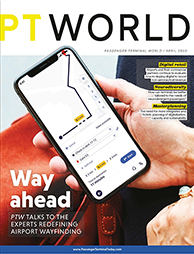 Click here for free magazine subscription + media pack
Future show dates:
Passenger Terminal EXPO 2019
Dates: 19-21 March 2019
Location: