Business Tour of Paris CDG Airport Area
Business Tour of Roissypole at Paris Charles de Gaulle Airport – organised by Paris Region Entreprises agency and Hubstart Paris Region® Alliance
Following Passenger Terminal EXPO 2015, the Paris Region Entreprises agency and Hubstart Paris Region® Alliance will offer a tour of airport services and devices.
The Paris CDG and Le Bourget airport area is the most advanced key strategic business development site in Europe. Roissypole is the business district of the airport city, located in the heart of Paris-Charles de Gaulle Airport. Launched in 1991 and enjoying a wide range of transport connections (plane, TGV, RER B, CDGVAL, bus), Roissypole has developed 300,000m² of buildings and hosts numerous international businesses. Paris-Charles de Gaulle Airport is a vital connection between the world's major economic and tourist regions; in 2014 it handled nearly 64 million passengers, making it the world's ninth largest airport. On the cargo side, in the same year, just over two million tonnes of goods and mail were loaded or unloaded here.
Tour Programme on 12 March:

14:30hrs: Meeting point at Porte de Versailles
15:30hrs: Visit to Charles de Gaulle Airport Platform

Roissypole: hotels, business area
Cargo area
16:30hrs: Visit to Aéroville (new-generation shopping centre)
18:30hrs: Back to Porte de Versailles
If you wish to participate, please follow the link: https://www.eventtia.com/en/dmz/passengerterminalexpobusinesstour
For further information please contact Isabelle Morin
isabelle.morin@parisregionentreprises.org
26, 27, 28
March 2019
ADD THESE DATES TO YOUR E-DIARY OR GOOGLE CALENDAR
SKYTRAX
WORLD AIRPORT AWARDS
The endless networking opportunities with colleagues and industry leaders provide a great way to learn from the best and provides a vast insight into where this industry is headed. Passenger Terminal EXPO is a place to get inspired!
Eva Maarend, Marketing Specialist, Tallinn Airport, Estonia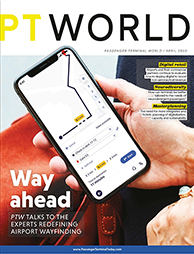 Click here for free magazine subscription + media pack