2009 Exhibition review
The fifteenth international conference and exhibition for passenger terminal design, management, security and technology, Passenger Terminal Expo 2009, was held at the ExCel centre in London on 24, 25, 26 March – the first time the event has been held in the UK. Over 200 leading international companies exhibited, bringing together CEOs, architects, airport and airline executives, suppliers, key decision makers and buyers from across the world.

Over the three days PTE 2009 provided the perfect platform for exhibitors to showcase their latest technological innovations and for attendees to discuss the most recent trends and developments in the airport industry.

The conference saw speakers from the world's leading aviation authorities, airports, airlines, architectural companies and consultancies discuss industry issues and offer solutions to operational problems. Topics covered included worldwide airport development, systems integration, aviation security, border control, commercial development, environmental issues and passenger experiences.

Here are a few highlights from the exhibition:
Everything changes
Pathfinda Turbo launched at PTE 2009
Ultra Electronics' UltraConnect and partnership with NEC
Travel, sleep, rest
New technologies at SITA
Terminal performance, queue measurement and trending solutions
Handheld check-in and ancillary revenue tool
FKI Logistex shows two industry firsts
A star is born
Low-cost kiosk solution
Self-service
New flagship
Long MTBF; Easy RFID
Rugged efficiency
Validity Verification
BCBP validation
Visitor feedback
Everything changes
Seating manufacturer Zoeftig unveiled inFINITE, a new design that represents a giant leap forwards, not just for designers, but for everyone involved in the airport industry: airlines and airport operators, architects and security. It is the culmination of two years' research into design, materials, production and configurability. inFINITE is a beamless seating system that is genuinely modular, infinitely reconfigurable and easy to assemble. Zoeftig's new, advanced, metal-replacing, engineering composite not only revolutionises how seating can be used, but also completely changes how it's manufactured. It also adapts instantly to an airport's ever-changing needs. Back to top

Pathfinda Turbo launched at PTE 2009
Following on from the successful launch of the original Pathfinda in 2005, Herbert Systems unveiled its newly developed Pathfinda Turbo at the Passenger Terminal Expo 2009. PTE 2009 saw the exclusive first showing of the solution, which has maintained the Pathfinda's proven reliability. The Herbert Systems' R&D team have worked to improve the accuracy of the orientation and increase the operating speeds from 500 bags per hour to in excess of 800 bags per hour. Business development manager for the company said: "At the forefront of Herbert Systems is our continuing development of both new and existing products. The Pathfinda Turbo was created by the desire for higher throughput and the need for more accurate alignment for smaller screening tunnels." Back to top

Ultra Electronics' UltraConnect and partnership with NEC
Ultra Electronics Airport Systems announced two major advances. First was UltraConnect, a global aviation messaging solution. Andrew O'Connor, Ultra's head of product management, commented: "UltraConnect is a brand-new offering from Ultra, able to provide reliable routeing of all airline message types with particular focus at this stage on IATA RP17545 baggage service messages. It's already in use at a UK airport and is routeing BSMs from some major carriers. UltraConnect is very definitely a service, not just a product, and comes with 24/7 monitoring plus end-to-end diagnostics." Regarding the company's new partnership with NEC, O'Connor further commented: "Ultra is innovating delivery of a number of its solutions using thin-client devices and VMware technology in partnership with UltraEnterprise solutions, such as our common-use UltraCUSEEnterprise platform and FIDS solution UltraFIDSEnterprise." Back to top


Travel, sleep, rest
An innovation for tired travellers was announced by New Zealand company SnoozzzCube. No longer will transfer passengers, early arrivals or anyone suffering from a delay have to camp out on chairs or airline lounge floors. The SnoozzzCube gives them a hygienic, safe, individual space with a memory foam mattress where they can relax in peace. Users pay on entry for the amount of time they want, at the end of which an alarm is sounded. And to prevent the occupant from continuing to snooze and possibly miss their flight, the alarm will continue to sound until the SnoozzzCube has been vacated. Back to top


New technologies at SITA
SITA demonstrated its drive to innovate at this year's show by giving visitors a sneak preview of new and future technologies. Products on show included a new model kiosk with the smallest footprint in the industry, the PassengerBagdrop solution and the WorldTracer Web for kiosks. WorldTracer is the industry-standard, fully automated system for tracing lost and mishandled passenger baggage and is used by over 440 airlines and ground handling companies worldwide. SITA's PassengerBagdrop solution allows a single bag drop counter to be used to service passengers from several airlines in the same queue. Swissport International and SITA deployed the world's first passenger bag drop solution. Ten counters have been created and successfully tested at Zurich Airport to the benefit of 11 airlines, all members of the Star Alliance, whose host departure control system is recognised by the PassengerBagdrop solution, which eliminates a potential bottleneck in the passenger management process. Back to top


Terminal performance, queue measurement and trending solutions
Bluelon and Real Time Engineering, a business unit of Sword Group, announced a partnership to bring terminal performance and queue measurement solutions to market. Their combined software and hardware solutions will bring airports more choices in how to manage and control their terminal performance for optimal commercial airline carrier and passenger satisfaction and operational cost savings. iQueue Server Suite, which integrates with Real Time's FirstPlanIT management software, provide detailed insight into operational demands, trends and analysis, as well as the ability to benefit from advanced forecasting and modelling techniques to create accurate forward pictures of passenger and baggage flow through airports enabling visualisation of future operational demands. Back to top


Handheld check-in and ancillary revenue tool
Another launch was ARINC's improved AviCheck mobile device for multi-host check in. The product is a lightweight tablet PC with wireless connectivity (Wi-Fi or GPRS/3G) complemented with a portable boarding pass printer that ARINC has developed in collaboration with aviation IT specialist AvilT. AviCheck is compatible with existing web-check in and kiosk services and can be particularly useful in reducing congestion in the departure terminal during peak times and in high season. Another very useful potential AviCheck application is to recheck and issue boarding passes on board the aircraft for passengers who have missed their connecting flights due to delays. Back to top

FKI Logistex shows two industry firsts
FKI Logistex demonstrated its brand-new systems for high-speed automated baggage handling. The new RFID tunnel is the first system to fully integrate RFID and barcode identification technologies to deliver next-generation automated baggage handling with near-perfect read rates. The company is also launching its energy-efficient LS-4000 high-speed sortation system, which uses a new motor technology to reduce energy consumption by up to 75 percent. "These new systems represent significant advances in baggage handling capability, which will allow airports to achieve new levels of cost control and customer satisfaction," explained Kim Nyborg Carlsen, director for airport systems at FKI Logistex. Back to top

A star is born
Medialounge revealed the latest prototype of its airport smoking solution. New features implemented as a result of extensive customer feedback include an improved media channel, digital displays for airport information and entertainment, crash bars around the outside preventing passengers with trolleys colliding with the lounge, and self-closing sliding doors. Jeanine Roberts, CEO of Medialounge, said: "Medialounge solves the entire problem of smoking at airports, cost-free. It was already the best product on the market but we wanted to implement new ideas to make it even better." Back to top


Low-cost kiosk solution
A preview of Zebra's Kiosk Print Station showed that it was easy and affordable to bring the benefits of self-service – such as improved sales, customer satisfaction and reduced costs – to the airport business. The Kiosk Print Station is an accessory that accommodates Zebra's TTP 2000 or 2100 kiosk printer, a roll of Zebra media and a mount for a touch screen terminal to form a complete, economical alternative to expensive custom kiosks. The operator simply adds their own interface and software to complete the solution. Back to top

Self-service
On show from Höft & Wessel's business unit, Almex and Materna, were turnkey solutions for CUSS check-ins for airports, airlines and ground handlers. Materna's CUSS software includes expanded functionality to support the most recent model of the almex.express self check-in kiosk service. There is a new suite of options – DualPaths printing and QuickMove, with specific focus on decreasing maintenance visit needs and improved handling, i.e. the manoeuvrability of kiosks on-site. The compact design enables the addition of biometric components. Back to top

New flagship
NeuroPie Solutions launched a brand-new version of its flagship product ZEUS. Release 3.0 builds on ZEUS's proven strengths as the leading software for real-time airport operations management and collaborative decision making (CDM) solutions. Visitors experienced the latest features for service level management, continuous process optimisation, and situation visualisation – naturally in real time. Back to top

Long MTBF; easy RFID
Unimark Products showed its practical approach to passenger handling and processing. Through innovation and simplicity of design, Unimark's new ET6500 multipurpose printer and EC3000 boarding gate reader offer economical solutions with uncompromised reliability, performance, versatility and ease of maintenance. The robust ET6500 is a heavy-duty workhorse printer with the industry's longest MTBF and the simplest upgrade to RFID capability. Despite its sleek ergonomic design, the durable EC3000, with state-of-the-art components and industrial plastics, is built to last in a tough environment. Back to top

Rugged efficiency
CONRAC, a leading manufacturer of highly professional displays, introduced a new generation of public displays (indoor/outdoor) specially designed for use in airport and railway applications. Based on the latest LCD/TFT technology, the 32-82in displays feature robust fire-retardant aluminium housings with IP20, IP54 or even IP65 protection as well as vandal-proof safety glass with high-efficiency anti-glare treatment for superior legibility. The implementation of special functions guarantees trouble-free operation and prolongs the display lifetime. Back to top


Validity Verification
Munster Osnabruck International Airport (FMO) is one of the most successful international airports in Germany. Demonstrated on the stand was a new Gate Access Verification System (GAVS), a software suite that automatically verifies the validity of boarding passes at security checkpoints. The verification result is shown like traffic lights. Green – accepted; yellow – attention; red – rejected. The system enables a variety of different ways to check boarding passes, no matter if the passenger presents a standard magnetic-stripe boarding pass or any other barcode boarding pass including those on mobile phones. Back to top

BCBP validation
Real Time launched its RT-Scan 2.0 BCBP validation solution. RT-Scan is already used by 14 airports to validate paper and mobile BCBPs. Version 2.0 has the flight and duplicate check extended to include integration with DCSs, TSA digital signature validation and passport reconciliation. The company's
RT-Queue Bluetooth passenger tracking and queue management solutions were also shown live on the stand, along with the FirstPass IATA mobile BCBP platform and FirstPlanIT. Back to top

Visitor feedback
Passenger Terminal EXPO 2009 saw visitors come from as far afield as Vietnam, India, Japan, China, the USA, Italy, Belgium, the Netherlands, Poland and Turkey – just to name a few. And feedback was extremely positive.

Andy Brooks from MAX Integrated Systems said: "One of the market sectors we operate in is airport and railway passenger terminals. We have come along to meet with new companies involved in integration and also to support our existing supplier. There are a lot of quality companies here that we will hopefully, as a result of this exhibition, be able to do business with in the future.

"The event is very easy to get around and there is a good mixture of consultants, manufacturers and support companies in attendance. It has proved to be a great networking opportunity for us and you get to see people that you haven't seen in years. If you don't come along to these events you will never know who you might meet."

Dave Michaels, President and CFO of Com-Net Software/Signature Technologies said: "We have come all the way from Ohio, USA, to visit this exhibition. We are involved in the air transit business and provide information display and paging systems to airports in the USA. The exhibition has enabled us to make contact with other companies in this sector and see what new trends and technologies are about on the market, including new check-in systems, self-service kiosks and integration solutions.

"As a result we hope to gain many new partners that develop products that complement our existing range. We have also been able to talk with European airports to see what they are implementing and looking for in the future. We have talked to a lot of companies and sat in many conference sessions. The show is very well attended, well organised and extremely informative."

Andreia Pauce from HJ Pavao De Sousa said: "Our company is based in Portugal and supplies support equipment for the airport sector. We have come along to meet with our agents and have a look at what they are doing in the market. I don't have a fixed objective when I visit the show, I just like to visit all the stands, meet with new people and see what new innovative products are available. We would like to make new contacts with companies that develop products that will complement our offering."

Yoshikazu Yamamoto from All Nippon Airways said: "We have come to see what technologies are on the market. There are a lot of product launches happening here, which will keep us up-to-date on the latest trends. Specifically we are looking at automatic ticket machines, self-service machines and iris scanning technology. The event has been informative and helpful and I will definitely be coming along next year."

Luc Heynderickx from Brussels Airport said: "I am responsible for CUTE and CUSS projects for Brussels Airport, so I have come along today to see what new common-use equipment is on the market. I am looking to invest in new technology and I know I will get what I want. The event is a great chance to see current what trends in the market. I usually come along every year – it is always very well organised and there is a good variety of people and companies exhibiting." Back to top
26, 27, 28
March 2019
ADD THESE DATES TO YOUR E-DIARY OR GOOGLE CALENDAR
SKYTRAX
WORLD AIRPORT AWARDS
First time for attendance and I was very impressed.
Jeremy Allen Mitchell, Service Assurance Manager, Sharjah Airport Authority, UAE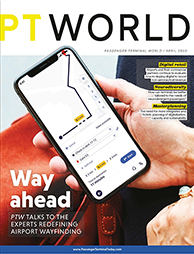 Click here for free magazine subscription + media pack