2008 Video review
"The conference and exhibition to attend!"
The Passenger Terminal EXPO 2008 held in Amsterdam from the 15-17 April was heralded by participants as "the conference and exhibition to attend!"
Watch the 2008 video review
To see what Passenger Terminal EXPO is all about, CLICK ON THE VIDEO BELOW to watch our 4 minute video clip which will reveal the excitement of the conference and exhibition.
Can't see the video? Download Adobe Flash Player from here
26, 27, 28
March 2019
ADD THESE DATES TO YOUR E-DIARY OR GOOGLE CALENDAR
SKYTRAX
WORLD AIRPORT AWARDS
First time for attendance and I was very impressed.
Jeremy Allen Mitchell, Service Assurance Manager, Sharjah Airport Authority, UAE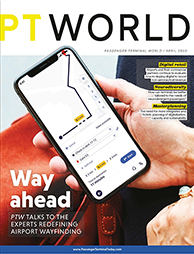 Click here for free magazine subscription + media pack